Organic growth for your coffee business
Bella Barista supply quality-focused businesses across the UK with organic speciality coffee. We also offer commercial espresso equipment, barista training and equipment servicing plans.
Interested in serving Bella Barista coffee? Fill in our enquiry form and we will be in touch.
Email Us

wholesale@bellabarista.co.uk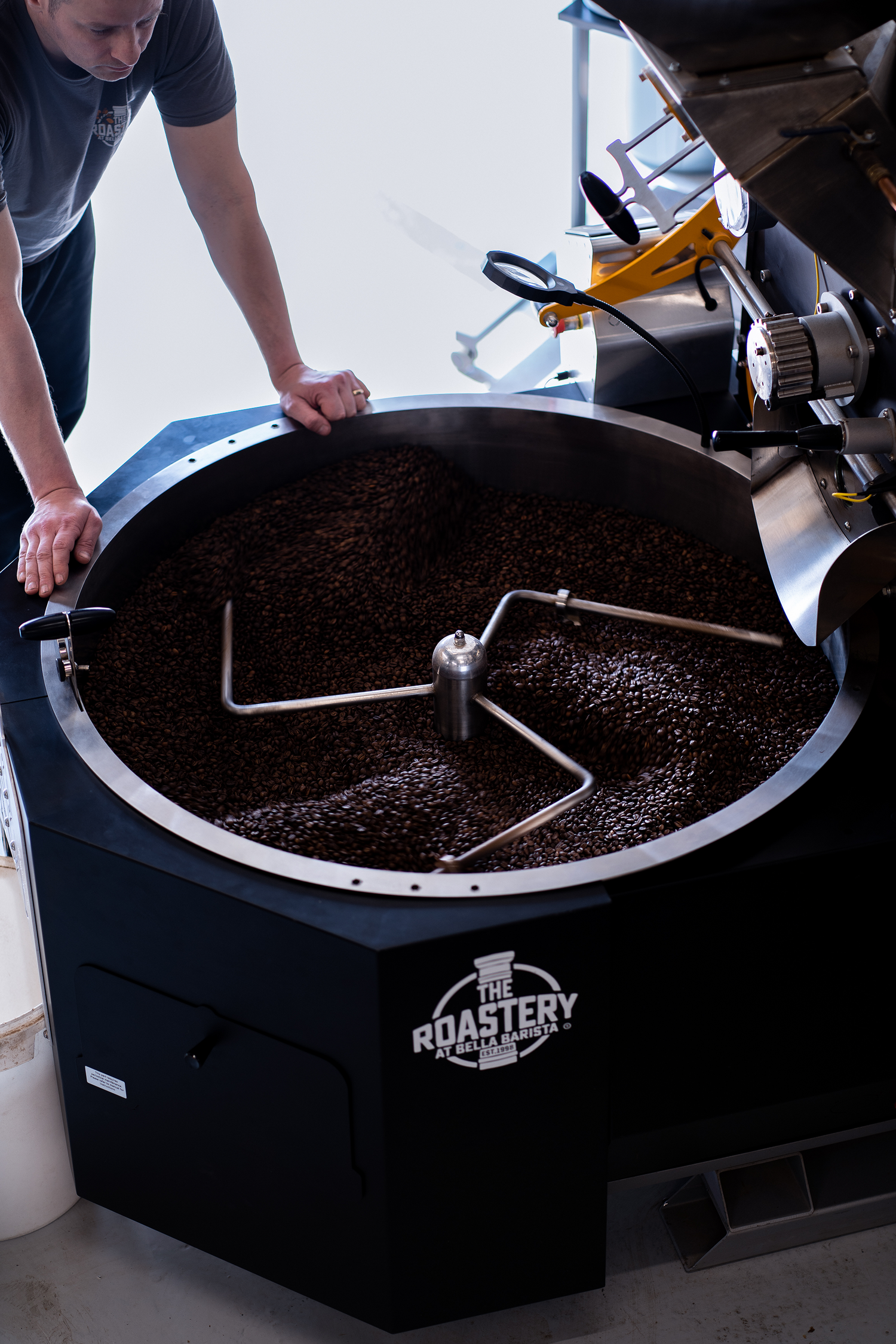 Organic Coffee Roasters
All our coffee is certified organic, specialty grade and delicious. We have been roasting coffee since 2016 & registered with Demeter as certified organic since 2021.
We currently buy over 75% of our coffee through direct trade.
Our approach to roasting is all about bringing out the sweetness and vibrancy of each coffee, with a focus on freshness and consistency.

With core house blends, decaf & seasonal single origin options available throughout the year, we can definitely supply you with the right coffee for your business.
Looking for something a bit different? We also offer white label roasting, custom design and bespoke coffees.
Equipment
You need the right equipment to keep you going day in day out. We work with some of the best manufacturers in the industry to offer a reliable and attractive range of espresso machines and brewers which are available to buy or lease.
Brands we work with
Training & Support
We offer all our wholesale partners free barista training and access to SCA courses at our training academy.
Service & Breakdown Support
We can install your espresso machine for you and offer service and breakdown contracts for all our wholesale partners. Our dedicated team of service engineers is available 7 days a week, offer replacement loan equipment and have a wealth of experience servicing commercial espresso machines.
Bespoke
For any wholesale partners ordering more than 72kg per month, we can offer a bespoke coffee with co-branded label design. We can even supply you with a full white label service.
FAQs
do you have minimum order quantities?

No, we don't expect minimum orders for you to work with us. All of our core coffee range comes in cases of 6kg and is good for up to 3 months from roast date.
how much does wholesale coffee cost?

Naturally, the price of wholesale coffee is based on volume. We offer a tiered discount for wholesale customers based on how much you buy. We value long term relationships and actively look for partners who are focussed on longevity and collaboration.
How many coffees does 1kg of beans make?

How many coffees you can produce from 1kg of coffee beans depends on how you brew and serve your coffees! We recommend using a double espresso for any drinks larger than 6oz (170ml). With a standard dose of 18g per shot, you can make approx 55 cups per kg.
Do you offer loan equipment?

We always recommend our partners own their own equipment; better to invest in your own asset than ours. We have access to a vast range of equipment and can offer advice and competitive pricing to our wholesale partners. We can offer loan equipment, but this is done on a case by case basis with overall coffee volume taken into account.
Can you help me design my coffee bar?

Yes! With years of industry experience between us, we can advise you on the best layout for your bar. We also have access to a range of skilled shopfitters & fabricators who can quote for the fit out.
Do you offer marketing help?

We've spent years building our brand and we're well recognised and trusted in the industry. Our partners have found that aligning their brands with ours helps them leverage off our reputation for quality, great customer service and approachability. We also regularly celebrate our partners through our media platforms and support them with promotional items such as A-boards and window stickers.
When do you deliver?

All wholesale deliveries are free over £200. We use DPD next working day delivery for all orders placed by 12pm Mon - Fri.

We will always try our best to accommodate one off emergency deliveries where we can
How long does your coffee last?

We deliver our coffee within 2 week of roasting. Our packaging shows the roast date, and we believe that it will taste at its best within 3 months of this date. The coffee is perfectly good to drink after this date, but it will begin to lose its vibrancy the older it gets.